renderPRO 2
---
Custom designed dual socket render node with up to 36 CPU cores (72 Threads). Optimized for quiet, desk-side CPU rendering or simulation.
---
---
Ships in 8 - 10 business days.
---
Basic Configuration Specs
Dual Xeon (1.6 GHz) 6 Core
32GB DDR4-2133 REG ECC Memory
120GB SSD
Microsoft Windows Professional 7
Expertly Engineered
The renderPRO 2 is a complete computer powered by dual Intel XEON processors and plenty of memory. We've stripped out all the unnecessary features and have boiled it down to what matters most: CPU core count. The renderPRO 2 was designed for 24/7 maximum workload operation, and to that end we've engineered a cooling setup that keeps it cool for reliable operation, yet quiet enough to sit on your desk. The all-aluminum chassis was designed to sit directly on an APEXX 4 and also allows it to be stacked several units high for a powerhouse desk side render farm solution.

Note: renderPRO is compatible with any PC workstation. You do need a BOXX workstation in order to use renderPRO.
Purpose Built By Creative Professionals, For Creative Professionals
At BOXX we understand your workflow, the programs you use, and we design solutions from the ground up to run those programs in a way that deliver real results that keep you creating and not waiting. The renderPRO portable render farm is the only desk side personal rendering system and simulation solution designed for offloading computationally intensive tasks. Keep your workstation free to keep creating without bogging down your CPU. When combined with an overclocked workstation, your workflow will fly with maximum performance regardless of whether you're bottlenecked by frequency or the number of cores.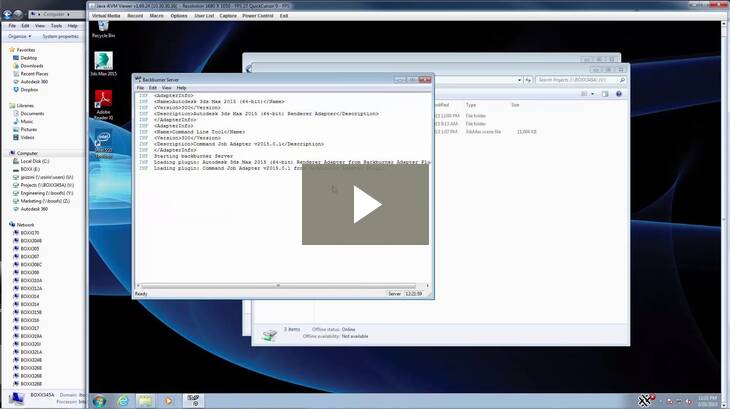 Simple to Set Up, Easy to Use
renderPRO 2 requires only power and a network connection. That's it. Once your renderPRO 2 is connected to your network, use the included BOXXView software to discover and take control. From there, you can remotely install your software and get to work. It really is that easy. Watch our comprehensive setup video (at left) and see for yourself.
Take advantage of our unique hardware solution package specifically designed to address the bottnecks of your professional software applications. Watch the video on the left for in-depth examples and more information on how the BOXX Workflow will make you more productive.
Tech Support That Understands Your Workflow
Legendary BOXX Tech Support is based 100% in the US, providing us immediate access to the tools and resources they need to support you and your specific workflow. We will attempt to recreate issues you may have utilizing our own hardware and software in an effort to reproduce even the most obscure problem. We'll even overnight parts when necessary (during the premium warranty period.) We understand that you need to be back working as soon as possible as down time means money. Your productivity will always be our top priority.
ENGINEERED IN THE USA
At BOXX, we're engineers and creative professionals too. In fact, we rely on SolidWorks, 3Ds Max, and other applications every day. Our chassis (including the APEXX) are designed by BOXX engineers and proudly manufactured in the USA, but they aren't built for sending emails or gaming.

They're crafted out of aircraft quality aluminum and steel strengthening components for one purpose and one purpose only: to provide you with the finest workstation available to get the job done. That means maximum airflow and cool, quiet operation—even with the most demanding hardware configurations.