Which industry are you in?
Which software are you using primarily?
Do you have a secondary software that you also use and if so, which?
Enterprise Class Liquid Cooling
Liquid cooling, a standard feature on all BOXX PC workstations, is rated at 50,000 MTBF and derived from the same technology designed for mission-critical data centers. By providing optimal management of the processors' heat output, BOXX liquid cooling keeps your workstation cool and quiet, ensuring long-term stability and performance. This small workstation solution includes a powerful and quiet blower fan which draws cool air in through a front grill and (through the radiator) exhausts hot air out the back in order to keep your CPU cool and quiet, even under load. This unique and custom-designed cooling system, which is key to maintaining peak performance while minimizing acoustic profile, enables APEXX 1 to perform on par with larger workstations.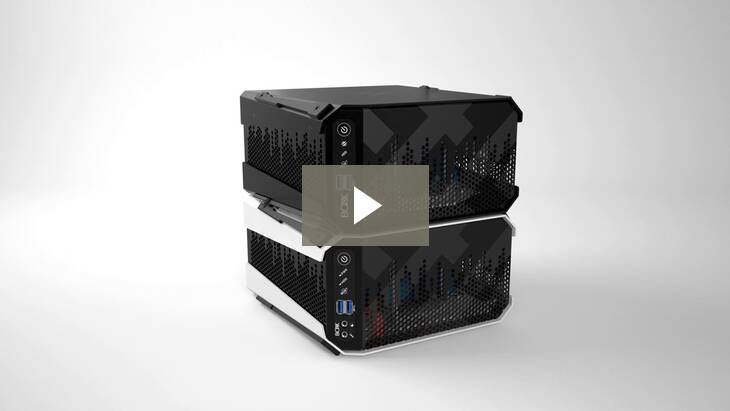 Stackable Rendering Sidekick
Place APEXX 1 on its side and stack the new renderPRO 1 right on top. The interlocking bumpers keep it firmly secure. Offload your computationally intensive tasks and keep creating on your APEXX 1, drastically accelerating your workflow without sacrificing the performance of your main workstation. The renderPRO 1 features up to 18 Intel® Xeon® cores and 64GB of DDR4 memory to handle the most demanding jobs.
The BOXX workflow featuring renderPRO series rendering and simulation sidekicks are ideal for networked rendering applications. Read more about the renderPRO 1 here.
Hard Drives
SATA 2.5" 7200RPM 1TB
SATA 2.5" SSD, 120GB-1.2TB
M.2 PCI-E 256GB-512GB

Supported Processors
Intel® Core™ i7 Quad-core processors with four cores (eight threads) and liquid cooling

Memory
Two 240-pin DDR4 SDRAM Dual In-line Memory Module (DIMM) sockets with support for up to 32GB DDR4-2133MHz system memory

Expansion Options
2 x 2.5" internal bays
1 x PCIe 3.0 x 16 low-profile slot
1 x M.2 PCI-E Gen3 x4
Graphic Cards
NVIDIA® Quadro® or AMD® FirePro

Drive Controllers
6 x SATA 6G (2 available)
1 x M.2 PCI-E Gen3 x4

Power Supply
External, up to 300 watt

Operting System
Microsoft® Windows™ 64-bit
Linux Operating System available (please call)

Service & Support
3-year Standard Warranty
1-year 24x7 phone support and next-business-day onsite service included (US & Canada only)
APEXX 1 features NVIDIA Quadro graphics up to a K1200 with 4GB of DDR5 memory, four mini DisplayPorts for up to four 4K monitors, and 512 CUDA cores, perfect for applications like Autodesk 3ds Max, Revit, SOLIDWORKS, and more. APEXX 1 offers up to 32GB of DDR4, optional M.2 NVME drives for lightning fast I/O (select configurations only,) and an addition pair of 2.5" mechanical or SSD storage options. All APEXX 1 configurations also include USB 3.0 ports, Gigabit Ethernet, and 802.11ac wireless connectivity.
Model 1802 (shown)
Front:
2 x USB 3.0
Headphone & Mic Jacks
Rear:
2 x USB 2.0
2 x USB 3.0
1 x USB 3.1 Type A
1 x eSATA
2 x Gigabit Ethernet
802.11AC Wireless & Bluetooth
1 x S/PDIF Out (Optical)
7.1 channel HD Audio jacks
Take advantage of our unique hardware solution package specifically designed to address the bottnecks of your professional software applications. Watch the video on the left for in-depth examples and more information on how the BOXX Workflow will make you more productive.
Tech Support That Understands Your Workflow
Legendary BOXX Tech Support is based 100% in the US, providing us immediate access to the tools and resources they need to support you and your specific workflow. We will attempt to recreate issues you may have utilizing our own hardware and software in an effort to reproduce even the most obscure problem. We'll even overnight parts when necessary (during the premium warranty period.) We understand that you need to be back working as soon as possible as down time means money. Your productivity will always be our top priority.
ENGINEERED IN THE USA
At BOXX, we're engineers and creative professionals too. In fact, we rely on SolidWorks, 3Ds Max, and other applications every day. Our chassis (including the APEXX) are designed by BOXX engineers and proudly manufactured in the USA, but they aren't built for sending emails or gaming.

They're crafted out of aircraft quality aluminum and steel strengthening components for one purpose and one purpose only: to provide you with the finest workstation available to get the job done. That means maximum airflow and cool, quiet operation—even with the most demanding hardware configurations.